Polystyrene filled floatation modules
Houseboat foam filled floatation modules are light weight floating constructions, produced from high quality polyethylene. They are supposed to be a part of floating platform for houseboat, floating cabin, floating cafe or floating beach.
Our foam filling technology: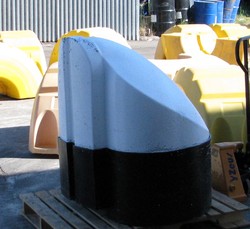 EPS (Expanded Polystyrene) 25
Module maintains it`s shape and is resistant to mechanical deformations
Compared to air-filled modules, our module retains floatation properties in case of hole
Floatation modules can stand temperatures in range from -60°C to +60°C and are also resistant to sudden temperature fluctuations. There is no need to deassemble or remove construction in winter period.
Houseboat Products
---
---
Equip Houseboat with accessories
Some of our products can be very helpful for the houseboat:
| Empty float for water storage | Slide to water |
| --- | --- |
References
---
---
Not just houseboat: Other projects
Based on our floatation modules and steel platform, it is possible to create custom constructions. Some of examples are below:
In case metal floats have aged, it is possible to renew floatation properties, by adding 3d row of plastic floatation modules.
See also