Anchoring buoys
 Anchoring buoys are the easiest solution to anchor your private boat\yacht.
Advantages of plastic foam filled floating docks:
modules can be assembled in custom manner, to provide desired shape of marina
not a subject to corrosion; durable
ensure desired height above the water level
possibility of anchoring
easy to conduct maintenance
environmental friendly
fast and easy installation
Contact us:
E-mail: Nlhouseboat@gmail.com
Order custom floatation module
---
We are full-cycle rotomolding producers. This means that our supply chain has stages such as computer 3d model design, development of prototype, mass production and quality control.
Today we are interested in extending our range of floatation modules. We welcome our customers to ask for custom products and promise to offer reasonable price-quality-time ratios .
Installation service
---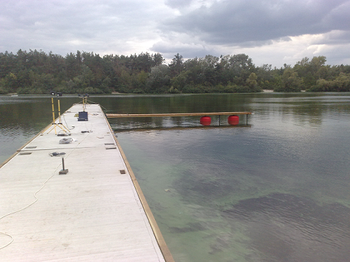 To ensure, that our products function properly, right from the start, we offer our installation service. Viva marina installation team consists of qualified workers, supervised by one or two our engineers.
We will come to the site with whole set of required equipment (except small boat and crane machine). Once we are there, we take the whole responsibility for installation of the construction.