Modular floating docks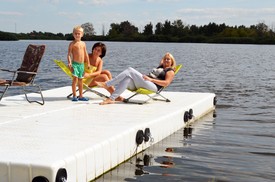 Floating docks are light weight floating constructions, produced from high quality polyethylene. Permanent and temporary floating platforms of any shape can be assembled with our floatation modules.
Floating docks modules can stand temperatures in range from -60°C to +60°C and are also resistant to sudden temperature fluctuations. There is no need to deassemble or remove construction in winter period.
Connection
Floats are connected with each other by means of chains. Inside the dock there are pipes (grey color on right picture). Chains go inside the pipes, end of chain is fixed with rubber (red color on left picture).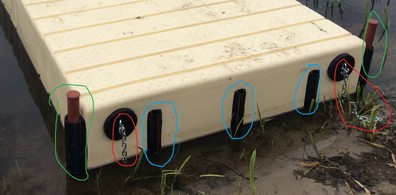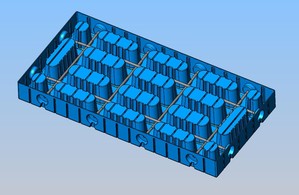 Advantages
---
Anchoring
Floating dock can be anchored with help of 2 anchors to the seabed. The anchors are attached with chains to the end of connection chains (red color on left picture).
On the land side, modular pontoon 1500 can be grounded with help of metal piles (green color, left picture). In case of water level change, floating dock slides up and down the piles. Piles are inside PE tubes, which are welded (extrusion welding) to the modular pontoon. According to customer desires, we will weld tubes at needed positions.​
Floating docks in packages
It takes 5 minutes to order and 40 minutes to assemble.